Thermoplastic injection molding
The manufacturing process of thermoplastic injection molding allows manufacturers to produce parts that are fully functional. It is best used when making prototypes, but it can also be used to make full scale runs. Since 1986, Idea Stampi has been involved both in the production of precision molds and in the thermoplastic injection molding for high, medium, low and niche production volumes.
Many different applications can be made using injection molding, because it offers high accuracy and a high quality surface finish. Furthermore, it is the industry standard for producing plastic parts.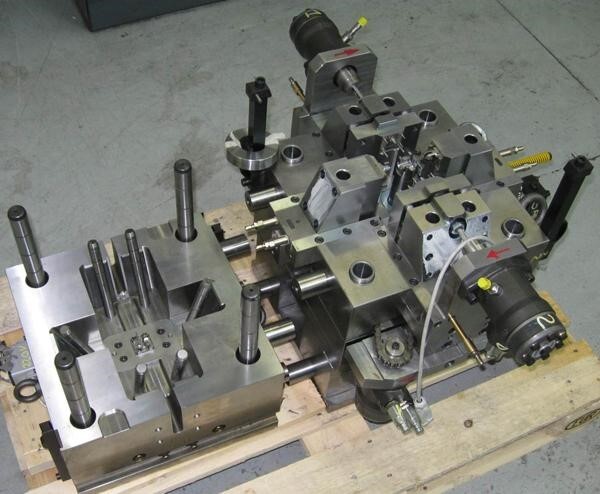 The thermoplastic injection molding process
Thermoplastic molding involves injecting a molten polymer (thermoplastic material) into a mold under high pressure. 
In other words, this molding technique heats and melts the plastic material which is then inserted into a closed mold. After solidification of the material, the mold can be opened and the new product component can be extracted.
In injection molding, which is carried out by an injection molding machine, the temperature and pressure of the plastic material are very high in order to guarantee a better smoothness inside the mold.
This process brings several advantages, like:
high productivity and speed - this technique, in fact, allows to obtain large quantities of plastic parts in a short time, ensuring the dimensional repeatability;
possibility of obtaining complex shapes and geometries, impossible to obtain otherwise;
very high precision;
reduction of production costs through automation of the entire thermoplastic molding process.
The most common materials involved in thermoplastic molding
Plastic stamping process requires different types of thermoplastic polymers which, according to their physico-chemical characteristics, are divided into:
amorphous or semi-crystalline (depending on the structure)

standard polymers or engineering polymers (depending on temperature resistance)
The plastic materials most commonly used for injection molding include: PC polycarbonate, ABS styrene copolymers, PMMA polymethyl methacrylate, PEI polyetherimide, PPS polyphenylene sulfide, PBT polybutylene terephthalate, PPO polyphenylene thione, polyoxymethylene POM, polyarylamide IXEF, nylon PA 6 and PA 66, polypropylene PP.
Can thermoplastic polyurethane be used in injection molding?
Idea Stampi manufacturers and markets thermoplastic polyurethane materials (TPU). These TPU polymers can be processed by a variety of techniques including injection molding. Thermoplastic polyurethane injection molding is easy to perform and the material can be transformed into shapes such as grips, gaskets, caps, orthotics & prosthetics, as well as many other applications. However, for this to be done effectively you need the right machinery and the right injection molding parameters. Idea Stampi is capable of processing injection molding on thermoplastic polyurethane materials thanks to its know-how and its mold precision.
Which mold for thermoplastic polyurethane injection molding?
Most traditional molds will well perform with thermoplastic polyurethanes. In the process you can expect a mold shrinkage percentage of between 0.4% and 1.4% depending on the hardness of the TPU being used and the wall thickness of the part being made. 
Idea Stampi: injection molding since 1986
Idea Stampi is specialized in injection molding and micro-injection molding. The production of injection molds is realized for different production volumes, depending on the customer's needs: for small series, for medium volumes and for large volumes.
In all these cases, the molds produced by Idea Stampi guarantee a high level of precision, durability and resistance: the goal is, in fact, to satisfy to the maximum the requirements of the customer. For this reason, it is widely involved in all stages of the process, from the design to the testing of the molds.
In addition, upon request, Idea Stampi also offers its customers an injection molding service for plastic materials. Thanks to the versatility of the technique, a high level of productivity can be achieved in a short time, while reducing production costs and obtaining accurate and quality products.
Do you want to deal with thermoplastic injection molding? Idea Stampi is the perfect partner!

Contact us