Plastic injection molding
Play your winning card and choose Idea Stampi. The extensive experience gained over the years in plastic injection molding service, and the continuous updating of our technicians, means we can deliver a 360-degree service that covers all phases, from product engineering through to final stamping.
Our work consists in identifying the most suitable mold construction solutions based on production quantities, product life and aesthetic requirements to offer you a custom plastic injection mold that fully satisfies your need.
How our plastic inkection molding service works
We work side by side with you from day one, assisting you in the choice of the best possible solution either if you need standard or custom plastic injection molds.
As a matter of fact, our goal is to rapidly develop an idea into a winning product that makes you stand out among your competitors.
How do we reach it? By delivering a complete plastic injection molding service that includes:
Co-designing

Design and engineering

Mold construction

Mold tests

Prototyping and pilot molds – we mold tests in-house and, upon request, also stamping tests
Let's get into detail.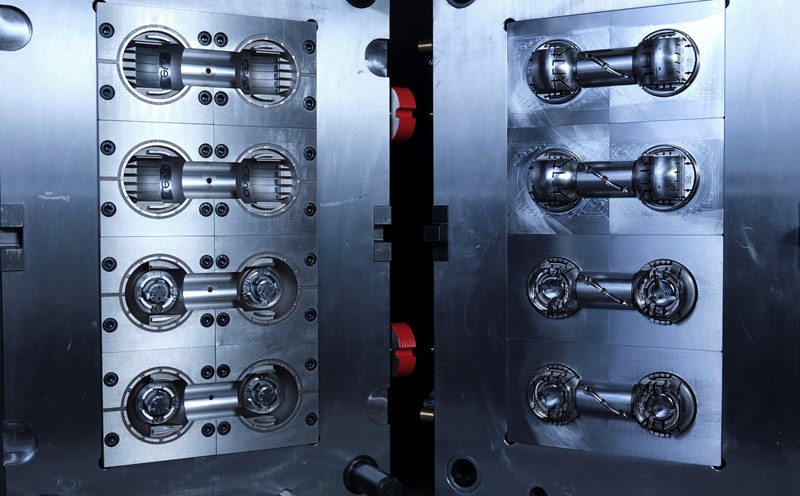 Co-design
Our core philosophy is captured in our name – Idea Stampi actually means "Moldings Idea". This is because we are able to deliver a complete service of custom plastic injection molding.
We start, only upon request, from a co-design phase conducted in collaboration with you as your idea is the root of the development phase. Co-designing takes place in three main steps:
1. First of all, we discuss and analyze with you the aesthetic aspects, which require to always bear in mind the components that will be made from thermoplastic material

2. During the second phase, we go on discussing and assessing the project aspects, including the choice of the most suitable material to be used

3. Finally, we make all required modifications to reach the final project and the construction of the various custom plastic injection moldings
The advantages of this process are easily explained: the constant interaction with your technical department from the very beginning helps reduce costs and avoids redesign interventions to adapt the model to the stamping requirements.
Design & engineering
The almost maniacal attention to even the tiniest details, striving to meet all the specifications you ask for, has led us to develop an engineering process that can guarantee maximum reliability as well as a complete plastic injection molding service through the skills, expertise and experience of our technicians, combined with the state-of-the-art technologies (CAD/CAM/CAE) we use.
The integrated stamping simulation system VISI Flow allows technicians to engineer the part, accurately performing a high number of important analyses, and defining the best position of the gate, along with the optimization of thicknesses and conditioning
Please note that the entire production process is performed in-house – from mold construction to testing –, to offer you the best possible quality-price ratio and a top-quality performing product that will last over time.
To know more about our design and engineering process, please visit the dedicated page: Injection mold design.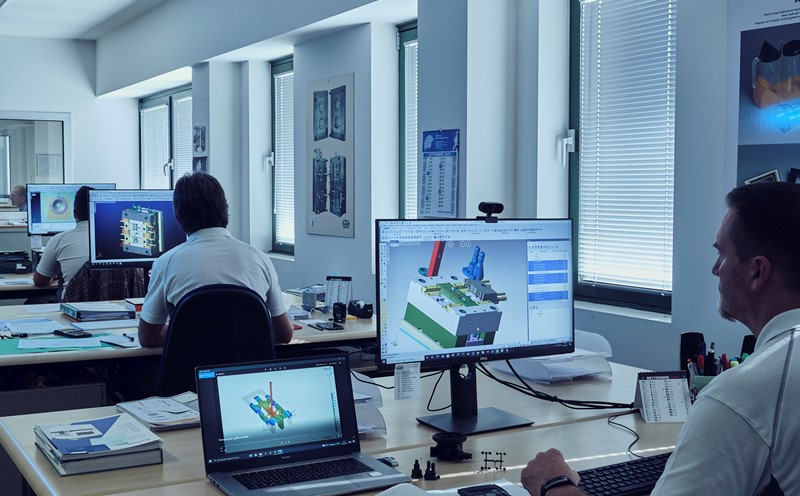 Mold construction
We design all products in order to provide long-lasting performance and amortize investments, with the largest number of parts possible. In addition, our molds qualify themselves as being extremely reliable because they are tailor-made on your need.
Choose a supplier that listens to your requests for your custom plastic injection molds

Contact us free of charge
Learn more about our production department. We use a state-of-the-art machinery, and an integrated CAD/CAM/CAE system which allows us to process all the parts using the same 3D model, avoiding data transcription or interpretation errors. Our operators often work with electrodes and tools that are so small that they have to use a magnifying glass during processing phases.
This is the production process that allows us to deliver a proper plastic injection molding service that you'll hardly find somewhere else.
Mold tests
To complete the production cycle, we conduct in-house final testing by using presses from 25T to 180T, alongside the newest 250T and 350T presses.
In addition to testing and inspection activities, we can also provide a pre-series service, performing the first production batches and hence optimizing the stamping cycle that will then be delivered to the customer.
Upon request, we supply the samples alongside Dimensional Test stamping cycle results.
Prototypes/pilot molds
You can opt for a pilot mold when it is necessary to provide rapid feasibility or functionality checks on parts, or before building the final mold. This is the ideal solution for reducing investment risks when dealing with multiple-impression molds and, in the meantime, testing the realization options.
This type of custom plastic injection molds has several applications even when numbers are so low that minimum investment is required, and manufacturing by using traditional technologies would generate excessively high costs to produce the parts.
The solution of using pilot molds is thus a winning decision because we can manufacture injection molds to stamp quantities of up to a few hundred thousand parts.
In search of a plastic injection molding service?

Contact us with no commitment