Polymer injection molding
Idea Stampi was founded as a mold construction enterprise in 1986: since then we have been dealing with polymer injection molding, such as polypropylene, pvc and thermoplastic polyutrethane injection molding. However, we have decided to take a step further, and buy some press machines which allows us to reach two important goals:
we can manage the whole production process within the company
we can also offer a thermoplastic injection molding service from start to finish, which includes the pre-production of batches and the delivery of finished products

If you are looking for a company that supplies thermoplastic polymer injection molding, including, polypropylene and pvc injection, you are in the right place. 

Contact us without commitment
How Idea Stampi deals with technopolymer injection molding
Idea Stampi is able to work with technopolymer injection molding technology using dedicated machines. Idea Stampi is able to mold plastics and process technopolymers with precision injection molding. Technopolymers are special materials with even higher performance and higher strength, designed specifically for the electrical, electromechanical and electronic, household appliance, construction, food, automation, industrial, medical, and personal care sectors.
Technopolymers are also known as engineering plastics or engineering polymers because they possess such strength and stiffness characteristics that they can also be used in the engineering field, replacing metals.
In general, engineering polymers:
Possess good or excellent dimensional stability;

Retain good mechanical properties even at temperatures above 100°C;

Are easily processed;

Withstand dynamic loads and aging.
Once molded, our products undergo other processes such as coating, chrome plating (both plastic and aluminum), and assembly.
What the polymer injection molding process consists of
Polymers such as polypropylene, polyurethane and PVC are considered polyolefins and are the most used plastics in injection molding. As the basic properties of polymers can be easily modified with a broad range of fillers, reinforcements and chemical modifiers, they are frequently used for injection molding.
This kind of polymer injection molding forces molten polymers under high pressure into a mold cavity through an opening called a sprue. The material, in the form of pellets, is fed into an injection molding machine through a hopper and conveyed forward by a feeding screw.
To make production run more smoothly, products undergoing injection molding must be carefully designed. For this reason, products made with plastic injection molding machines are first designed by an industrial engineer or designer. Then, a toolmaker creates the mold, usually from steel or aluminum. 
The injection molding process consists of several steps:
First, the mold is inserted into the polymer injection molding machine. The press closes the mold, which, thanks to the clamping tools, remains closed during the plastic injection molding process.
At this point, the molding machine heats the plastic and makes it liquid.
The nozzle of the injection molding machine then injects the molten plastic into the mold. The mold cavity is then filled with the plastic liquid, which cools to form a solid product. 
Eventually, ejectors push the cooled product out of the machine as a finished part. The injection molding process is now completed.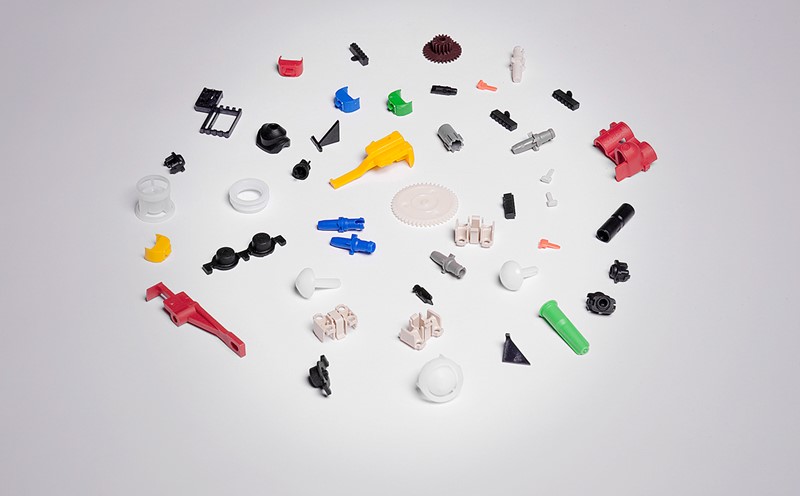 Polypropylene injection molding
Polypropylene, PP, is used in injection molding for a wide range of applications because it is one of the lowest density plastics – as a matter of fact, its density ranges between 0.895 and 0.92 g/cm. This material is often used for food containers because it does not leak chemicals into food.
PVC injection molding
PVC stands for Polyvinyl Chloride as much as other types of plastics, but additives are mixed with PVC to make it processible because the chlorine included in the material complicates things a bit. Thus, some special corrosive resistant materials such as stainless steel are required for PVC injection molding.
Polyurethane and thermoplastic polyurethane injection molding
Due to high wear and abrasion resistance, polyurethane thermoplastics are used in thermoplastic injection molding for producing versatile, modern and safe components and products. As a matter of fact, polyurethane does not lose its resistance and elasticity even in the lowest temperatures and at the hardest durometers.
Precision molding of Technopolymer
Precision molding of technopolymers is a groundbreaking technique that could be applied to many different sectors, ranging from automotive to aerospace, including the medical field.
Technopolymers are unquestionably suitable for all those applications which require high accuracy and quality. They include materials such as polyamides, polyesters and polycarbonates which are particularly resistant to heat and durable.
During the precision molding process, technopolymers are heated to become more malleable, so that they can easily be injected into a specific mold.
This technique is proven to be extremely effective when it comes to the manufacturing of highly precise components that can guarantee tight tolerances.
Why process plastic injection molding such as PVC, Polymers, Polyethylene, Polyurethane?
There are several reasons, but we list the main ones above. These materials are:
Lightweight

Highly resistant to chemicals

Tough even in the lowest temperatures

Excellent dielectrics

Non-hygroscopic
Machinery fleet
Our fleet of machinery consists of 9 machines ranging from 25T to 180T of Engel, Arburg and Fanuc. In addition to precision injection molding, these machines allow us to offer other services, including:
screen printing
pad printing
the assembly of components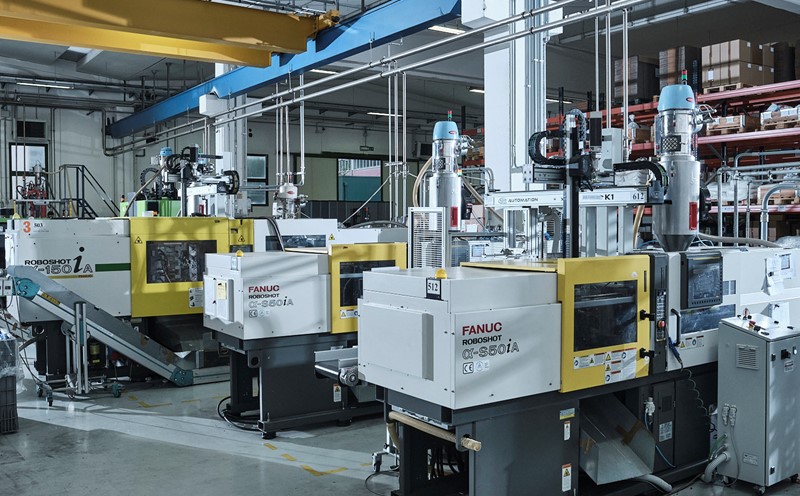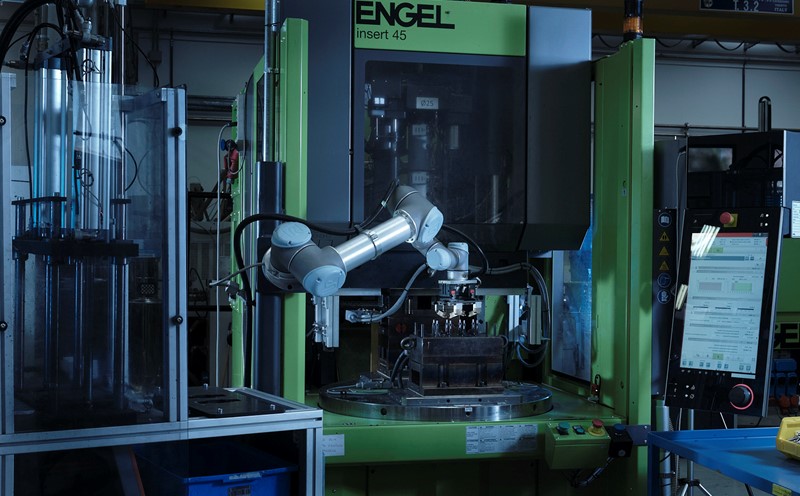 Classification of Polymers and other materials for injection molding
The extensive experience gained over the years allows us to use an incredible range of different materials, such as: PMMA, PEI , PPS, PC, PBT, PPO, POM, ABS, PC/ABS, PPA, PA6-PA66, PP,  etc.
Classification of polymers. The thermoplastic polymers used in injection molding can be classified in two ways on the base of either their structure or their resistance.
#1 As for their structures, polymers can be as amorphous or semi-crystalline based on their structure:
Amorphous, that is they are normally transparent and suitable for use when constructing precision parts due to their remarkable dimensional stability
Semi-crystalline, that is they are usually opaque and are renowned for their ductility and good chemical inertia.


#2 As for their resistance, they can be:
Standard polymers, suitable to be used at temperatures of under 100°C
Technopolymers, that are suitable for temperatures between 100°C and 150°Cand , and characterised by good mechanical properties
Whatever it is the final destination of your products, choose Idea Stampa as your partner for polymer injection molding.

Contact us for free to learn more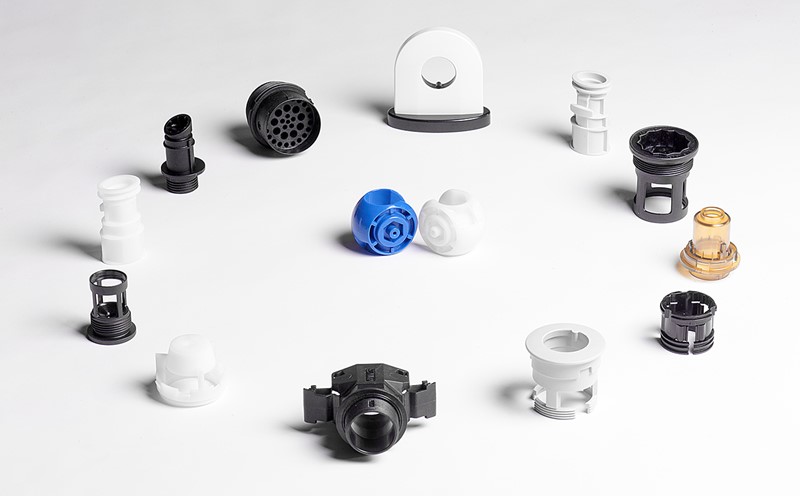 PMMA (Polymethylmethacrylate)
It is a transparent material of excellent aesthetic appearance, easy to work, with remarkable optical properties. It comes in a range of different colours and various surface finishes.
Sectors of use: furniture and furnishing sector, with; the shock-proof type is widely used in the machinery safety sector in general.

PEI (Polyetherimide)
This high-performance technopolymer is a self-extinguishing amorphous polymer with no additives and high thermal, electric and mechanical properties, typical of crystalline polymers. In addition, it is resistant to high temperatures, has a low oxygen limit, excellent mechanical characteristics, tensile strength, and high flexural modulus.


Sectors of use: medical and food sector.

PPS (Polyphenylene-sulfide)
This is a partially crystalline thermoplastic, nonpolar material, low H2O absorption. It is characterized by high dimensional stability – which is increased by the fibre-glass reinforcement –, intrinsic VO self-extinguishing properties and electric insulation with low dielectric leakage.
Sectors of use: dimensional precision parts, undergoing high mechanical, chemical and electric stress; replacement of light, thermal-hardening metals; plug connectors, reels, heat exchanger elements, car engine parts, heat pumps, fuel tanks.

PC (Polycarbonate)
PC injection molding - which is different from PVC injection molding! - is used to manufacture products that are resistant and good dielectric features. As a matter of fact, PC is a transparent base, amorphous polymer commonly used to achieve high impact resistance even at low temperatures, and is characterized by excellent impact resistance, dimensional stability.
Poor self-lubrication characteristics lead to attacking by oils and grease making it difficult to use for lubricated mechanical organs.
Sectors of use: electric sector; it is rarely used in the chemical industry given its low resistance to hydrocarbons; food industry – it is physiologically inert when neutral colours are used in this delicate field.

PBT (Polybutylene terephthalate)
It is a polymer with good wear resistance, excellent anti-friction and low water absorption properties and good dimensional stability that provides rigidity and resistance against friction and wear.


Sectors of use: commutator coils, transformers, pump units, fans and engineering use in general.

PPO (Polyphenol oxidase)
This material resists to a working temperature of 175°C and preserves its mechanical characteristics between -40 +120°C. As such, it is used in technical sectors where high mechanical characteristics at high temperatures are involved.
Sectors of use: engineering parts, parts that must withstand sterilization, hygiene-health parts, terminals; electric, electronic, medical, transport, household appliance industry.

POM (Polyoxymethylene)
This polymer exists in two versions: POM c (co-polymer) and POM h (homopolymer).
Commonly referred to as Acetal Resin, POM is a crystalline polymer obtained by polymerization of formaldehyde. Its use has rapidly grown due to its exceptional mechanical characteristics, its humidity stability and excellent machining properties.
Excellent resilience, hardness, rigidity, exceptional dimensional stability, remarkable resistance to boiling water are the main features of co-polymers while homopolymers have a fair level of resistance to light.
Despite some use restrictions due to its high specific weight and to the fact that it easily burns creating toxic formaldehyde vapours, it is applied in several sectors because it has good electrical properties, excellent resistance against solvents, oils and hydrocarbons, high wear-resistance and low friction coefficient.
Sectors of use: high-precision injection molding for technical parts for the chemical, electric, mechanical, automotive, pharmaceutical and scientific instrument industries.

ABS (Styrene co-polymers)
Sectors of use: mechanical, chemical, electric, textile, automotive, scientific equipment, telephone, furnishing, toys, nautical and household appliances industries.

PC/ABS
Sectors of use: technical parts, electric and electronic components, car dashboards and knobs.

PC (Polycarbonate)
Due to its excellent qualities, PC is commonly used in polymer injection molding that involves electricity and precision.
Sectors of use: electrics and electronics; optics and illumination; precision mechanical industry producing accident prevention articles such as visors and shield; food industries.

IXEF (Polyarylamide)
It is an expensive, yet versatile material.
Sectors of use: polymer injection molding within electro-technical industries for connectors, sliding guides for magneto-scopes, safety switches, CD player disk holders; automotive and transport for fuel pumps, vandal resistant seats, clutch parts, screen-wiper commands, oil filter boxed, door handles, headlight housing etc.; household appliances sector for  the production of iron elements, electric razor heads.

PA 6/ PA 66 (Nylon)
These polyamide resins are versions of Nylon 6 and Nylon 66. Due to their versatility and high physical mechanical characteristics, these polymers are used for injection molding in a great range of applications.

They can also be reinforced with fiberglass.

PP (Polypropylene)
Polypropylene injection molding is used for a wide range of applications. It can be reinforced with fiberglass too. For example, thanks to its low density, this material is suitable for the packaging of consumer products as well as in the automotive industry to realize plastic items.
Sectors of use: polypropylene injection molding is used to produce industrial parts, electric components, cables, parts resistant to hot water, various containers, toys.
We are specialized in polymer injection molding

Contact us for a free quote