Injection molding manufacturer and supplier
Since 1986 we have been working as injection molding manufacturers serving a variety of local and international companies which operate in various fields and need molds either for big productions and limited edition products.
What we do is easily explained. We design, manufacture and supply injection molds for the production of high-precision thermoplastic parts with exceptional aesthetic demands. We are specialized in the production of high-precision technical parts and multiple-impression molds for high production requirements, but we also supply prototypes and pilot molds for small and medium series that requires complex and intricate geometries – for instance, for limited editions.
WHAT IS INJECTION MOLDING AND HOW THE PROCESS OCCURS
Injection molding is a manufacturing process that allows parts to be molded in large quantities and occurs by injecting molten materials into a mold. Usually, it takes place when it is needed to process thousands of identical parts. Materials for injection molding include metals, glass, elastomers, and confectionery, although it is most commonly used with thermoplastic polymers.
How does injection molding work? The first step when we speak of injection molding is to create the mold itself. Idea Stampi co-design the mold you need along with you so we can discuss the aesthetic aspect and the technical details. Once the mold has been created, a molten polymer (thermoplastic material) is injected into a mold under high pressure. Heating bands melt the material in the barrel, and, after its solidification, the mold can be opened and the new product component can be extracted. Different materials can be combined into one part in a type of injection molding called a two-shot mold. Molds can be single-cavity or multiple-cavity. 
In general, the injection molding process requires careful design, depending on the shape and characteristics of the part, the mold materials, and the sector of use: automotive, medical, electrical or industrial. 
WHY CHOOSE US AS YOUR INJECTION MOLDING SUPPLIER
Over time we have introduced a further service so not to be simple injection molding suppliers. That means that you can contact us for:
How we do it
The know-how we developed over the years of experience in the field allows us to identify the most suitable kinds of injection molds on the base of your production types and aesthetic needs.
At Idea Stampi's you will find technical staff whose expertise turns us into your ideal injection molding supplier. Here's what we do:
We start asking you about your needs either form a technical and aesthetic point of view
We co-design the molds with you using CAD/CAM systems integrated within a constantly updated production complex
We make mold tests to be sure they actually work for you – including final inspection and dimensional tests of stamped parts
We produce prototypes and pilot molds for limited productions
We believe in Innovation, Design, Experience, Reliability
WE ARE INTERNATIONAL INJECTION MOLDING MANUFACTURERS
The headquarters are located in the Italian city of Rovereto, just 30 km from Trento, on the Brenner motorway link. This is the ideal crossroads between the major industrial districts in Northern Italy, such as the manufacturing (Lombardy, Vicenza) and optical (Belluno) ones, and important European countries such as Austria, Germany and Switzerland.
However, there is more. We also work with factories based in the US and in the rest of the world.
THE FIELDS WE MANUFACTURE INJECTION MOLDINGS FOR
Injection molding is used to produce thin-walled plastic parts for a wide variety of applications. Due to our expertise as injection molding suppliers, we can cover the majority of them: as a matter of fact, we manufacture molds for electric, electronic, automotive, medical, industrial automation field, household appliances, personal care.
Take a look at the graph below: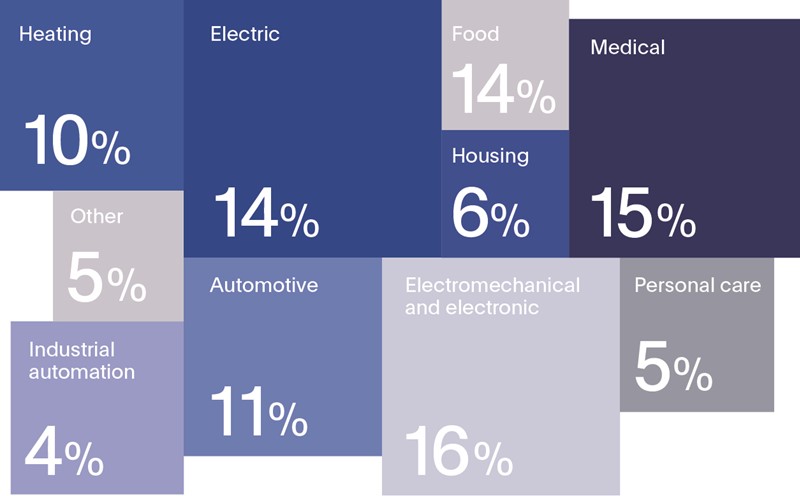 Our certifications
The business of manufacturing injection molds for thermoplastic parts, is certified according to UNI EN ISO 9001:2008. A standard that internationally certifies compliance with quality and safety standards. This, for Idea Stampi's customers, is synonymous with precision and reliability and therefore with a product with excellent quality level.
 
Partnership
Idea Stampi provides complete support from the beginning designs to the delivery of the finished products, all according to the specific requirements of the product and requests of the individual customer.
This is precisely why the Fluid-o-Tech group has chosen Idea Stampi as its partner.
Fluid-o-Tech is an Italian company with over seventy years of experience, thus making them a market leader for quality and innovation in the design and production of positive displacement pumps and systems to dose and control fluids with great accuracy and precision for the automotive, medical, food service, industrial and other sectors.
Today Fluid-o-Tech positions themselves strategically in the market as a partner of reference in the field of fluidics, a provider of solutions capable of moving, dosing and measuring fluids, giving the customer a new level of value. They are a global, strong and competitive company working alongside the best businesses around the world.
Idea Stampi has decided to be part of this group by forging a deep commercial synergy with the aim of 'Providing customers with a complete finished product, according to their needs and qualitatively competitive'.